Wycieczka grupy projektowej "Od surowca do gotowca – świadomy konsument ubrań"

20 listopada grupa młodzieży z Gimnazjum im. Jana Pawła II w Osieku nad Notecią realizująca projekt "Od surowca do gotowca – świadomy konsument ubrań" wyjechała na wycieczkę do Poznania. Był to jeden z końcowych etapów pracy grupy projektowej stanowiący kontynuację działań trwających od początku września.
W trakcie wyjazdu młodzież uczestniczyła w warsztatach prowadzonych przez wolontariuszy Stowarzyszenia "Jeden Świat", które jest polskim oddziałem międzynarodowej organizacji Service Civil International (SCI) działającym w Poznaniu.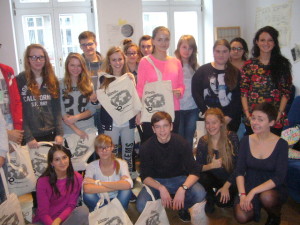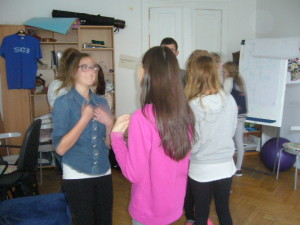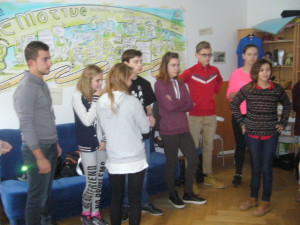 Wolontariusze prowadzący warsztaty pochodzą z Turcji, Gruzji i Ukrainy i uczestniczą w Polsce w różnego rodzaju międzynarodowych programach wolontariackich i edukacyjnych.
Spotkanie to było wyjątkową okazją dla młodzieży z Osieka do rozmowy z obcokrajowcami, sprzyjało wymianie poglądów i poszerzeniu horyzontów, przede wszystkim jednak popularyzowało wiedzę uczestników na temat edukacji globalnej. Wyjazd do Poznania stanowił echo wizyty wolontariuszy – cudzoziemców w gimnazjum z dnia 10.11.2015 roku.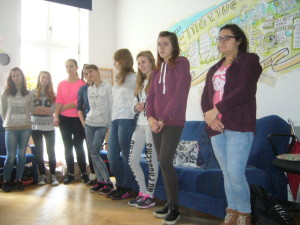 W związku ze zbliżającą się rocznicą Powstania Wielkopolskiego, młodzież była także w Muzeum Powstania Wielkopolskiego w Poznaniu, gdzie miała możliwość zwiedzania ciekawych ekspozycji.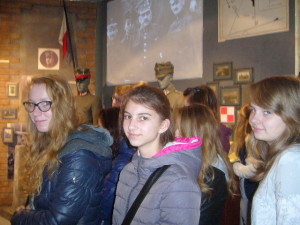 25 listopada 2015 roku odbyło się ostatnie spotkanie w ramach projektu. W grudniu mapa świata przedstawiająca miejsca pochodzenia naszych ubrań, wykonana przez uczniów w trakcie spotkań projektowych, prezentowana będzie w Bibliotece Publicznej w Osieku.
Z całą pewnością udział w projekcie znacznie pogłębił wiedzę uczestników dotyczącą tematyki edukacji globalnej i świadomej, odpowiedzialnej konsumpcji, umożliwił poznawanie innych kultur a także zainteresował nauką języków obcych. Warto zaznaczyć, że dla niektórych uczniów był to pierwszy kontakt z osobami nie mówiącymi w ogóle w języku polskim.
Projekt był współfinansowany w ramach programu polskiej współpracy rozwojowej Ministerstwa Spraw Zagranicznych RP.
Realizatorem projektu było Stowarzyszenie Menos, które składa podziękowania
dyrekcji Gimnazjum im. Jana Pawła II w Osieku nad Notecią za możliwość realizacji projektu na terenie szkoły.